This afternoon the 5 finalists for the 2009 National Book Award were announced.
Previous winners include behemoths like Pynchon's
Gravity's Rainbow
(1974) and Gaddis's
JR
(1976), and the tradition of honouring Epic-with-a-capital-E novels has continued ever since: the most recent winner was Peter Matthiessen's
Shadow Country
, an 800-page re-telling of the life and death of the Everglades outlaw Edgar J. Watson (1855-1810).
This year's nominees are, in that sense, a little surprising:
Let the Great World Spin
, Colum McCann
(link to video)
Irish/American b.1965, 368pp (An Irish family in 1970s New York, centred around the famous tightrope walk): 7th book, 5th novel. A previous book won the Rooney Prize and Irish Novel of the Year Award.
Far North

, Marcel Theroux
(link to opening pages)
British/American (Paul's son, Louis's older brother) b.1968, 304pp (Post-apocalyptic Siberia): 4th novel. Previous book won Somerset Maugham Award.
Lark and Termite
, Jayne Anne Phillips
(link to interview podcast)
b. 1952, 272pp (1950s family in West Virginia and Korean war): 9th book, 4th novel. Previous book won Massachusetts Book Award. Also received Guggenheim Fellowship, two National Endowments, and taught at Harvard.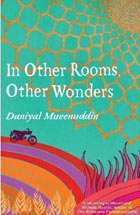 In Other Rooms, Other Wonders
, Daniyal Mueenuddin
(link to reading of final story)
Pakistani/American b.1963, 256pp (8 short stories set in Punjab): 1st book.
American Salvage
, Bonnie Jo Campbell
(link to first two stories)
b.1963?, 170pp (14 short stories about Michigan poverty): 4th book (incl. 1 novel)
All 5 books are shorter than 400 pages, and 2 are collections of short stories... Perhaps the Award is changing its focus? (Or, perhaps it's just time to read these books.) Another interesting point to note: with the notable exception of Jayne Anne Philips, all 5 were born within a five-year span in the mid 1960s...
Oh, and 3 of the 5 authors would not call themselves 'American' at all.